8 December 2023
FROM THE PRINCIPAL
Saint Nicholas was a Bishop who lived in the fourth century in Turkey and was known for sharing his many riches with the poor as well as giving secret gifts to people who needed them. He is certainly worth a google if you'd like to read about the fascinating evolution of this holy man to what we know as the modern day Santa Claus. It was his feast day on Wednesday and it seems fitting that this falls in the beautiful season of Advent where we focus on giving and preparing for the birth of Jesus. Saint Nicholas; pray for us.
I attended a special presentation this morning, the culmination of a 6 week intergenerational project sponsored by Coffs Harbour City Council. We've thoroughly enjoyed being part of the ukulele band and look forward to more opportunities for our children to engage with the good folk of Sawtell Catholic Care.
Look what's ready! Our K-2 Gaga Pit will be open for year 2 children on Monday! THANK YOU THANK YOU THANK YOU MHOC Bingo teams for raising the funds for this fun new addition to our playground space.
We light the peace candle on our Advent wreaths this weekend. May each and every one of us focus on bringing peace to everyone we encounter in these final weeks leading up to the birth of our saviour. I look forward to seeing you at our end of year events over the coming week or at the Family Waterslide night from 6pm tonight.
Warm Regards,
Liz
UPCOMING EVENTS
Wednesday 6-12th December - K-2 Intensive Swimming continues
Tuesday 12th December - Year 6 Grad Mass and Dinner (MHOC Church and Coffs Harbour Racing Club)
Wednesday 13th December - Awards Ceremony @8:50am in the school hall
Thursday 14th December - Christmas Concert @ 11.30am in the school hall
Thursday 14th December - Parish Thanksgiving Mass & gathering afterwards
Friday 15th December - Last day of school for all students
Saturday 16th December - MHOC Choir @ CHCC Carols (Brelsford Park Coffs Harbour)
Tuesday 19th December - Advent 2nd Rite of Reconciliation 6pm- church (All welcome)
WHAT'S THE BUZZ?


2023 Awards Ceremony
We will be holding our annual Awards Ceremony on Wednesday 13th December from 8:50am. All welcome.
MHOC Christmas Concert
All of our families are invited to join in the fun of our annual Christmas concert to be held on Thursday 14th December from 11:30am. We hope to see you there!
SJPC Enrolments
For those who have been asking about enrolment at Saint John Paul College, please see the criteria below taken from the college website:
YEAR 7 ENROLMENTS
Consideration of applications will be subject to the following criteria:
Baptised Catholic children of practising, worshipping Catholic families with strong demonstrable links to the parish of Mary Help of Christians, Sawtell or St. Augustine's, Coffs Harbour.

Catholic students attending the Coffs Harbour Parish Primary Schools; St Augustine's and St Francis Xavier and attending the Sawtell Parish Primary School; Mary Help of Christians.


Catholic children attending Catholic Schools in other Parishes.




Children of regularly worshipping families from other Christian denominations who have strong demonstrable links to their faith community and are attending Catholic schools within the Parishes of Coffs Harbour and Sawtell and are prepared to support the teachings of the Catholic Church.

Other students of families who support the Catholic ethos of our schools are welcome if places are available.
Safe on Socials - Messenger for Kids
Facebook Messenger for Kids is a messaging app designed specifically for children aged between 6-12 years.
LOVING LEARNING
Visual Arts
Over the last few weeks in Visual Arts, the students have finished off their all time favourite creations, 'Christmas Tree Ornaments'. Aren't they gorgeous?

Science & Technology
Our students have had a very busy term of learning in Science & Technology.
Kindergarten students have been learning about force and how objects move. They have made a variety of moving toys to explore push and pull forces and have designed a special moving toy to send to Santa and his elves.
Year 1 and 2 learnt about changes in the sky. They have studied moon phases, positions of the sun across the day, constellations, clouds and seasonal changes.
Year 3 & 4 investigated how the Earth's surface changes over time. They have studied erosion and weathering, the rock cycle and human impact on the Earth's surface.
Year 5 & 6 examined Earth's place in space as part of a complex system of planets orbiting around the sun. They have been making comparisons between Earth and the other planets in our solar system. They particularly enjoyed measuring out the solar system to scale on the field and designing a solution to deal with the growing problem of space junk orbiting Earth.
Music
This term in Music, Year 3, 4 and 6 students have been working hard at composing their own body percussion performances in small groups. There were some very creative efforts, and the students enjoyed performing their pieces on stage in front of the class.
FROM THE MISSION DESK
We'll be lighting the Peace candle at this weekend's Masses and over the coming week in our classrooms. Let's all pray for peace in our hearts, peace in our families and peace in the world as we continue our preparations for Christmas.
Christmas spirit is flowing across the school this week as classes set up their Advent wreaths. Have a look at some of the beautiful prayer spaces.
Year 2 Class Mass and presentation to St Vincent de Paul
On Tuesday, students presented 20 baskets of Christmas cheer to representatives of the Sawtell Saint Vincent de Paul Conference. The food hampers will be distributed to families in our community.
As a Catholic school we know that it is very important at this time of giving to be mindful of those that are less fortunate and rarely afford the opportunity to enjoy Christmas celebrations. Thank you to our Mary Help of Christians school community. Your generosity will help bring smiles to people's faces this Christmas.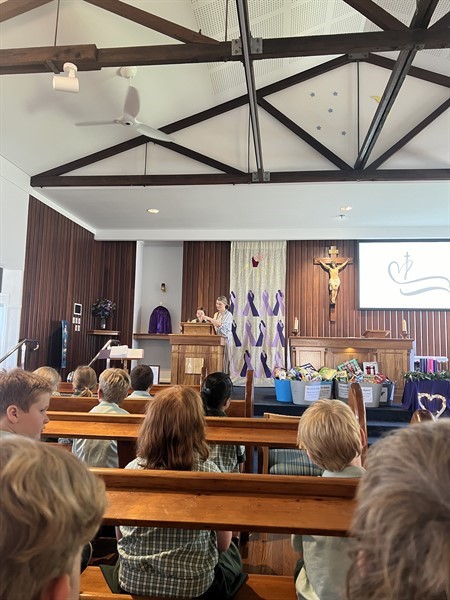 Kindergarten Class Liturgy
Today Kindergarten celebrated their last Class Liturgy together. The children talked about the wonderful year of growing and learning they have had and also the special friendships they have made. Below are some of their prayers -
Thank you God for the fun we have had in Kindergarten.
Thank you God for our teachers who have helped us.
Thank you God for the friends we have made in Kindergarten.
Thank you God for the love we feel from you.
MHOC Christmas Mass Timetable
Term 4 Class Mass Roster
Class Masses are held each Tuesday morning at 9:30 at Sawtell Catholic Church. All of our families are welcome to come along and stay for a cuppa and morning tea after Mass.
Tuesday 12th December No Class Mass. Year 6 Graduation Mass 5pm
SENSEI'S CORNER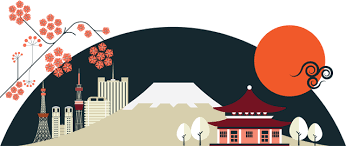 Lot's of kanji chatterboxes will be coming home . Good luck with your Japanese numbers, parents! Some chatterboxes will make you jump or dance. Others will make you read hiragana.
Some of our Year 3 students are starting to read in hiragana script. Our karate belt study helped us get this far. Here's a website with simple stories that can be accessed for free without signing up.
Open one digital story from series 1 to blow your mind.
Parents- see how many books you can read. Sensei knows that some parents studied Japanese when they were younger.
You might need this chart for some handy help to keep up with your Year 3 child.
MHOC PARENT FORUM
Big Banana Waterslide Night Tonight
We look forward to catching up with so many of our families tonight. If you haven't bought tickets already, you can still come along and purchase tickets at the gate. You will need to have the correct money (cash only). Prices are: $16 for under 1.2m sliders and $20 for over 1.2m sliders.
From the Catholic Schools Parent Assembly
Here's an Advent idea to help your children focus on the joy of giving to others, strengthen family bonds & have fun. Sneaky Santa.
1 Put the names of family members in a hat (you can include extended family if they live nearby).
2 At the start of Advent, each person draws out a name.
3 During Advent, each person must do as many acts of kindness for their person as they can without getting caught. Ideas include:making their bedwriting a nice noteleaving a treat where they will find it.
4. Reveal who the Sneaky Santas are on Christmas Morning.
Uniform Donations
Has your child grown out of any uniform items that you may be able to donate to the school? You can donate these via the school office and our Pre-loved Uniform Committee will make them available to other families to purchase for a donation. Alternatively, you can organise to swap items for a larger size - just add your requests to your donation.
Bingo
The rostered teams for the next few weeks' Bingo are:
Thursday 14th December - team no. 3 (Catherine's team)
Thursday 21st December - team no. 4 (Renate's team)
Thursday 28th December - team no. 5 (Donna's team)
WE NEED YOU!
MHOC's Bingo teams need volunteers to support various projects funded by Bingo. You'll only need to dedicate 3 hours, once every 6 weeks, allowing flexibility with your schedule. Join now to make a positive difference in our school community.
Text or call Gemma at 0404 340 494 to join.
SPORT NEWS
2024 Swim Trials
Our swim trials will be held in Week 1 next year, on Friday 2nd February.
The trials are open to all students who will turn 8 or older in 2024 and who are of squad standard (can confidently swim 50 metres or more), and who will be available to progress to future trials, ie. Zone, Diocesan, Polding, State.
The trials will commence at 8am, so parents will need to drop their children to Sawtell Pool. A bus will transport the students back to school.
If your child would like to compete in the trials, please complete this nomination form by Friday 15th December.

Year 3-6 Swimming Carnival
Straight after the competitive trials on Friday 2nd February, Years 3-6 will have their fun House Carnival at Sawtell Pool. A reminder will be sent out as an Event in Compass early in the first week of school. It is essential that all parents provide consent in Compass to this water event or students will have to stay at school, so please look out for the Compass notification.
Elective Sport
It's a wrap! We hope the students enjoyed this year's program. The addition of a couple of new sports seemed to be popular, especially Stand-up Paddleboarding.
Prev
Showing images
1 - 8
of 9
Next
K-2 Water Safety Program
This year's water safety program at Sawtell Pool has come at the very best time, as the hot weather has finally arrived. Essential water skills are an important part of a child's education and we value this program highly for our young students.
The program continues on Monday and Tuesday.
HABITS OF MINDS AWARDS
Term 4 Week 9
| | |
| --- | --- |
| Year 2 | Lachalan Gould, Vinnie Pandelakis, Flynn Stevenson, Archer Tulk, Leni Slater, Aria Cole |
| Year 3 | Joshua Gibson, Imogen Baylis, Mieke Appeldoorn, Ava Beecham |
| Year 4 | Xavier Woods, Asha Cook, Indiana Rose, Mia Spence-Smith, Jack Higgins, Nevaeh Jones |
| Year 5 | Sonny Wilhelm, Oscar Lane, Charlie Little, Sophie Laurie, Piper O'Sullivan |
| Year 6 | Louka Whitehill, Polly Salter, Rhylee Duncan, Isla Schomberg |
LIBRARY WHIPSERS
We've been getting lots of returns from students which is fantastic, but there are still a lot of overdue books to come back. If you think your child might have books to return could you please help them look at home for them.
Children are able to bring books home for the holidays as long as they have no overdue books. If you're not sure whether your child has an overdue book, feel free to contact either their class teacher or me.
CANTEEN NEWS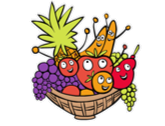 WE NEED YOU!!
Canteen Roster Week 4
Monday 11th Dec
HELP WANTED
Tuesday 12th Dec
HELP WANTED

Wednesday 13th Dec
HELP WANTED

Thursday 14th Dec
HELP WANTED

Friday 15th Dec
Nichole Brookes
HELP WANTED
OSHC
Week 9 has been very calm and relaxing!
The children have really enjoyed late afternoon karaoke, dancing around the stage and jamming out to Christmas music.
The children have also enjoyed decorating animal masks, making adorable jellyfish out of paper plates, playing chess and a range of other board games during the hot afternoons, melty bead creations and so much Christmas craft.
This week's "Artwork of the Week" goes to… Emilia Nyhan and her beautifully painted landscape!
NEWS FROM OUR PARISH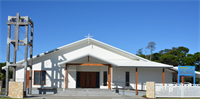 We have come to the end of the year for our group. It has been a wonderful opportunity and privilege to spend time with these children and get to know them better. We have had lots of fun and have also shared our faith and learnt new things.
Ava, from People and Paws spent some time with the group earlier this year making cards for residents at Mater Christi. She was finally able to deliver these personally to the residents and reported spending a wonderful afternoon with them and said that the cards brought smiles to many faces. Hopefully we can build on this next year.
For our last session together on Wednesday, we made an Advent prayer chain and then cooled off under the sprinklers with a water slide. Thanks for a great year children. A special farewell to our Year 6 children. Good luck with your new adventures in high school.
Merry Christmas everyone.
Thanksgiving Mass & Celebration
Baptism
The Sacrament of Baptism is available to those requesting it. Please ring Jennifer at the Parish Office (66583544) or talk to Amber Biddle, Liz Watts or Margaret Ryan at school if you have any questions. Alternatively, if you wish to register for Baptism, there is now the option of an online request form .
Parish Website , E-bulletin & Facebook Page
For all the latest news from our parish, check out the Parish website or subscribe to our new e-bulletin which can be sent directly to your inbox each week. Why not sign up today by entering your details in the sign up box on the Homepage or Contact page of the website!
And don't forget to check out our FaceBook page
COMMUNITY NEWS